SUPPORTING PATIENTS AND COMMUNITIES 
THROUGH EDUCATION.
Current pharmacy curriculum overlooks the Endocannabinoid System and Cannabis as a whole due to its illicit scheduling. Individual states have adopted regulations with pharmacist oversight of medical cannabis dispensing and legalization is spreading rapidly.
ISCPh offers memberships to licensed pharmacists, medical professionals, and industry leaders to support advancing cannabis education, collaboration, and networking across the country.
Our student memberships support students in their exploration of advocacy, research, and academia.
ENCOURAGING
EVIDENCE BASED RECOMMENDATIONS AND QUALITY CONTROLS
CONNECTING 
PHARMACISTS AND INDUSTRY LEADERS ACROSS THE COUNTRY
SUPPORTING
PATIENTS AND COMMUNITIES THROUGH EDUCATION
See our available membership options and join us today!
In our effort to standardize Cannabis as a medicine (and Define Cannabis Care), we invite Cannabis Pharmacists in Medical and Recreational states to complete the following survey. You can also visit the Survey here. Loading…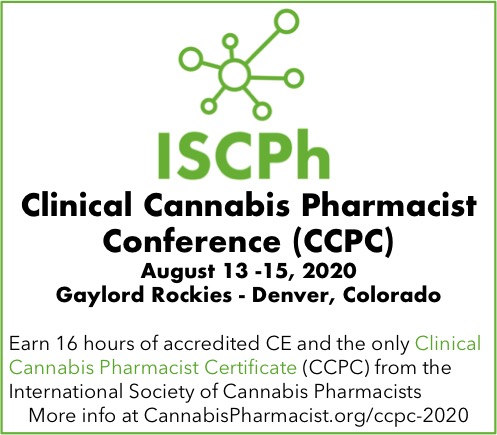 ISCPh is committed to Defining Cannabis Care and standardizing Cannabis as a medicine. We are proud to announce the first Clinical Cannabis Pharmacist Conference in August 13-15, 2020! This 16 hour ACPE and CCCEP accredited conference is required to be eligible for...
Thank you to our nominees and members for participating in our Leadership Selection! It is with great pleasure that we announce our next Board of Directors for ISCPh. We are so grateful to connect with likeminded professionals in support of public health! Feel free to...
Recent Announcements + Newsletters
Check out the latest updates from ISCPh If you're not seeing this in your inbox; subscribe today!
Latest updates on our association can be found here! Make sure you sign up for our newsletter to receive these updates in your inbox. https://mailchi.mp/530e76f041ba/iscph-october-2019-members-updates